Gartner has just published their outlook on the strategic technical developments that will be important for enterprises in the next three years.
Well – it seems that we at Skilja are at the right place with what we are doing. We have known this for a long time and our success shows it, but it is a nice confirmation from an outside view that we are not only in the middle of innovation but actually leading it.
If you look at their second row of technologies – it is all about intelligence and analytics. This is all where Skilja is with classification, text analytics and automatic decision making: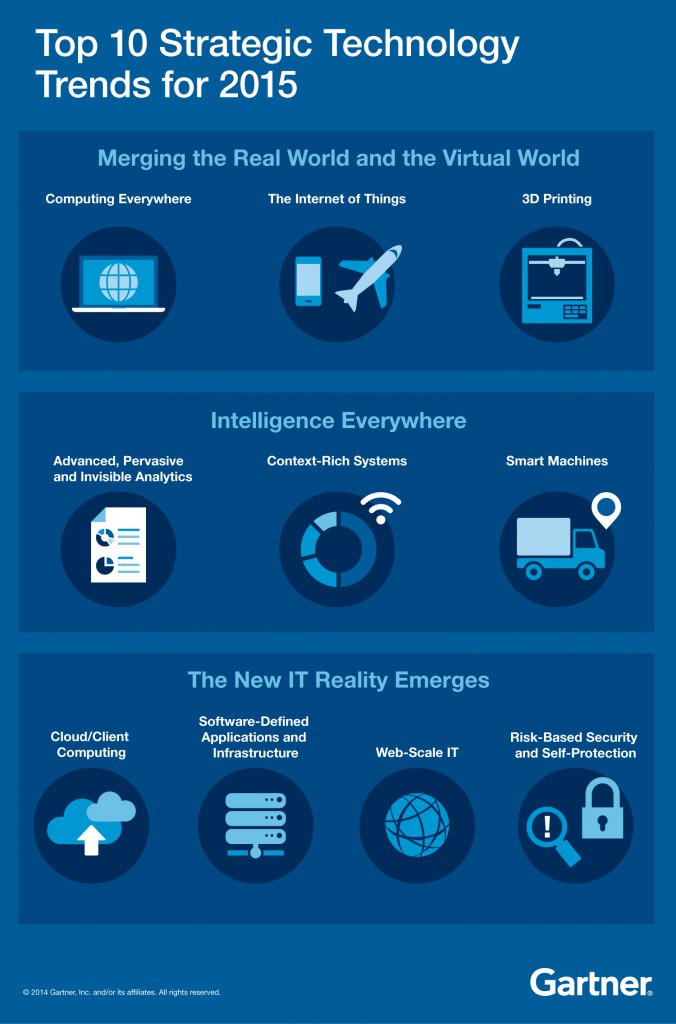 Top 10 Tech Trends 2015 (graphics by Gartner)
"Advanced, Pervasive and Invisible Analytics: Analytics will take center stage as the volume of data generated by embedded systems increases and vast pools of structured and unstructured data inside and outside the enterprise are analyzed. Big data remains an important enabler for this trend but the focus needs to shift to thinking about big questions and big answers first and big data second — the value is in the answers, not the data."
"Context-Rich Systems: By understanding the context of a user request, applications can not only adjust their security response but also adjust how information is delivered to the user, greatly simplifying an increasingly complex computing world."
"Smart Machines: Deep analytics applied to an understanding of context provide the preconditions for a world of smart machines. This foundation combines with advanced algorithms that allow systems to understand their environment, learn for themselves,and act autonomously. The smart machine era will be the most disruptive in the history of IT."
All this will be in the cloud and available for mobile – which is a matter of course for all our activities and developments that are built on ditributed cloud enabled systems.
To add the last grain of salt to this great support from Gartner to our strategy they finish with "Agile programming of everything from applications to basic infrastructure is essential to enable organizations to deliver the flexibility required to make the digital business work."
Does this sound like what we have been evangelizing and practising for many years? Yes it does!
For full Gartner article see here.